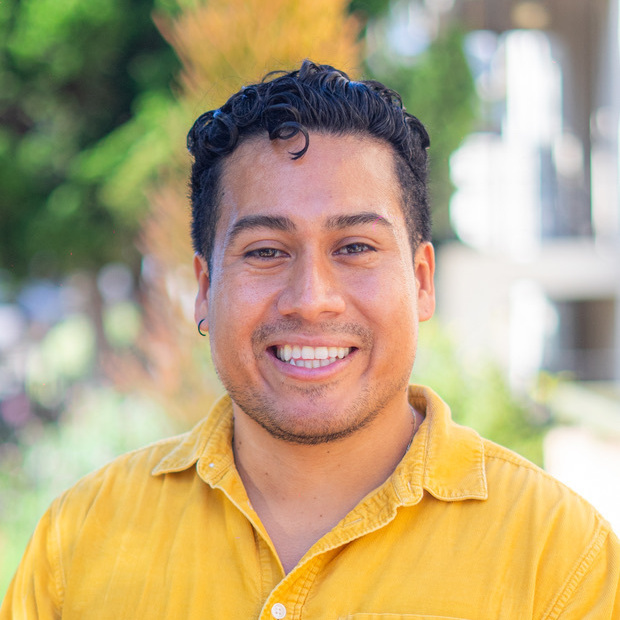 Jaime "Xaime" Aceves Equihua, APCC
Associate Professional Clinical Counselor
B.A., Architecture from University of California, Berkeley M.S., Multicultural Counseling from San Diego State University
Supervised by Darlene Tando, LCSW
My name is Xaime (pronouns: he, him, she, her, they, them) and I am a queer Latinx person who grew up in the San Diego and Tijuana region. I am a creative, empathic and community-oriented counselor who wants to support individuals struggling on their path towards self-awareness and healing from their mental health challenges. I have an eclectic work history that includes personal and professional experiences working with children, transitional aged youth that make me a skilled counselor. My experiences in education include working in K-12 schools and San Diego State University. My counseling style is person-centered, LGBTQ+ affirming, gender affirming and I can provide counseling in English and Spanish. My clients will tell you that working with me is safe, authentic, and collaborative.
In addition to being a counselor, I am also a part time drag queen who performs at community events and provides educational programming for youth and families. Through my lived experiences I have become very knowledgeable about our community and our struggles. I strive for providing a safe space for my clients to be their most authentic selves.
You may contact me to set up an appointment: xaecounseling@gmail.com
I am able to bill the following insurances: Aetna, Anthem Blue Cross, and Sharp. I can provide Superbills to those with a PPO. I look forward to working with you!
Mi nombre es Xaime (pronombre él, ella y elle), soy Latino y me identifico como Queer y Gay. Soy un consejero creativo, empático y orientado en el bienestar de las comunidades multiculturales. Mi propósito como consejero es ayudar a individuos que estén explorando su identidad y su proceso de sanarse de sus desafíos mentales. Tengo varias experiencias profesionales y personales trabajando con niñes, jóvenes y adolescentes que me han formalizado en mis habilidades como consejero. Mis experiencias incluyen trabajo en escuelas, preparatoria y la Universidad del Estado de San Diego. Mi estilo de consejería está centrado en la persona, mi concentración es en apoyar a personas de la comunidad LGBTQ+ y puedo ofrecer consejería en inglés y español. Mis clientes han dicho que trabajar conmigo es seguro, confiable y colaborativo.
Aparte de ser consejero, también trabajó como drag queen que da funciones en eventos de la comunidad y ofrece programas educativos para niñez y familias. Por medio de mis experiencias de mi propia vida he aprendido mucho sobre nuestra comunidad y nuestros desafíos. Me propongo a crear un espacio seguro para que mis clientes se puedan demostrar cómo sí mismos.
Se puede comunicar conmigo para crear una cita: xaecounseling@gmail.com
Estoy registrado como consejero APCC en el estado de California y supervisado por Darlene Tando, LCSW. Por esa razón, no puedo aceptar aseguranzas de salud privadas, pero puedo ofrecer un precio de servicio más accesible para usted, si es posible.